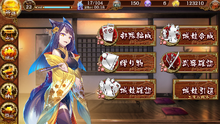 Where you deal with Castle Girl related stuff.
Castle Girl View
Edit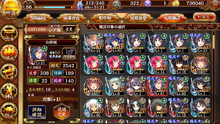 The Castle Girl view is not limited to any just one menu, but is a submenu that appears under several menus in slight variations. In most variations you would be able to view details (詳細確認) and protect (保護) or unprotect (保護解除).
Locks appear on their portraits of protected Castle Girls, they cannot be used for anything that will result in losing the Castle Girl unless you unprotect them. Being in a team (編成中) also stops a Castle Girl from being retired or used as material in merging, but once a Castle Girl is removed from the team, they can be used as such again.
Troop Organization 部隊編成
Edit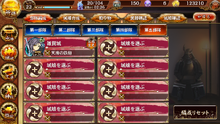 Organize your Castle Girls into 5 teams of 8 for easy deployment, the same Castle Girls can be in multiple teams. Switch between teams by clicking on the tabs from Team 1 to Team 5 (第一部隊~第五部隊) to select them. Click on any slot (城娘を選ぶ) to select any Castle Girl and confirm (決定), the process is the same if the slot already has a Castle Girl. When a slot is taken, a change equipment (装備変更) option is available.
Note: You only need 1 Castle Girl for a team to be usable, be careful not to deploy an incomplete team.
Click on reset composition (編成リセット) to clear the selected team.
Merging 城娘合成
Edit
Use Jinmusume or unwanted Castle Girls to provide EXP to target Castle Girl. Level and rarity of girls chosen as material will determine the EXP gained from merging, whereas the gold cost will be determined by the target castle girl's level.
Note: In addition to giving extra EXP, merging any Castle Girl with a duplicate (or a Rasha fodder unit) will raise her level cap (限界上昇) by 10 each. This "limit breaking" (LB) can be done up to 4 times (indicated by diamonds near the girl's name in relevant menus), increasing the level cap by 40 total, and unlocking a facility slot each time.
Warning:
Once you merge the girls used as materials will be gone
forever
, please make sure to protect (保護) Castle Girls that you wish to collect before proceeding. This can be done in most Castle Girl views with the exception of material selection.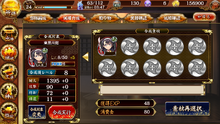 Choose the Castle Girl that you want to upgrade, then click on confirm (決定).
Click on any icon in materials (合成素材).
Select up to 10 Castle Girls or Kamimusu to be used as material and click on confirm selection (選択完了). If Castle Girls of 3 star and above are chosen as material, a warning message will appear under the materials panel.
Click on choose materials again (素材再選択) to clear the material board and go back to the material selection screen or proceed with merging (合成実行) to go ahead and merge. If Castle Girls of 3 star and above are chosen, a pop-up will appear and ask for final confirmation, click on yes (はい) to proceed and no (いいえ) to close the pop-up without merging.
Gifts 贈り物
Edit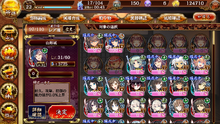 Send gifts obtained from missions to increase the Castle Girls' affection for you!
Affection levels boosts a castle girl's attack, defense and endurance stats by 0.1% for every 1%. Gifts that a girl like will result in double the affection and is displayed as such.
| Gifts | 1% | 5% | 10% |
| --- | --- | --- | --- |
| Hairpin | Normal hairpin | Cute hairpin | Gorgeous hairpin |
| Sweets | Common sweets | Well-known sweets | World-class sweets |
| Waka anthology | Simple anthology | Intellectual anthology | Elegant anthology |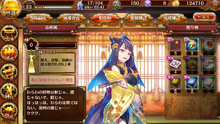 In addition, special events are unlocked at 30%, 60% and 100%, during an event the Castle Girl will ask you questions, if you answer correctly her affection will increase further by 5%. At 100% affection she will reward you with a weapon, the rarity depends on her rarity level. Completing each event, regardless of whether the correct answer is given, will unlock images of the castle girl in various states.
Unlocked events and images can be viewed from the Encyclopedia though the Miscellaneous menu.
Note:
Gifts currently only drop from events and daily dispatch.
Castle Girls of the same name will only reward you once, duplicate Castle Girls won't give you rewards.
Upgrade Castle Girls to a higher tier, reconstructed Castle Girls have better base stats than the basic Castle Girl. The process is mostly similar to Merging with the exception that target and material Castle Girls have to be of the same rarity, meaning to reconstruct a 3 star Castle Girl, Castle Girls used as materials has to be of 3 star as well. Each Castle Girl requires a certain amount of reconstruction points (改築ポイント) before reconstruction actually occurs.
Not all Castle Girls can be reconstructed.
| Rarity | Required Points |
| --- | --- |
| ⚝ | 30 |
| ⚝⚝ | 20 |
| ⚝⚝⚝ | 15 |
| ⚝⚝⚝⚝ | 7 |
| ⚝⚝⚝⚝⚝ | 5 |
| ⚝⚝⚝⚝⚝⚝ | 3 |
| ⚝⚝⚝⚝⚝⚝⚝ | 1 |
For further detail and instructions for how to reconstruct castle girls, head here.
Castle Girl Inspection 城娘確認
Edit
Display all Castle Girls and Jinmusume in your possession, you can sort by new (入手), type (武器種), level (レベル) , and rarity (レア度) by clicking on 変更. There is no way to switch between ascending/descending order.
When a girl is highlighted, you can inspect details (詳細確認), change equipment (装備変更) and protect (保護) them from the buttons on the left panel.
Castle Girl Retirement 城娘引退
Edit
Retire Castle Girls or Kamimusu for gold, select up to 10 to retire and do not forget to protect the girls that you want.
Takes you to the Workshop.